Custom web site:
We can assist you with the following:
Analyze system needs
Choose development language and database (php, .Net, mysql, MsSql, etc.)
Design Database behind the system
Code the system
QA (Quality Assurance) to make sure system works flawlessly
Launch web site and assist with all technical needs
Recently Launched Sites
Cam-Bag.Com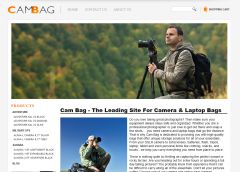 Do you love to take outdoor photographs? Be prepared with one of the Camera and Laptop Bags from Cam Bag. With storage solutions, organization, safety, and security, you will be ready for anything.
Contact Us:
Phone: 647-477-2992
Email: info @ CmsBuffet.Com
Helping You Achieve Web Visibility.