Which location targets are affected by the system update?

We noticed that some cities, our clients work in, are on the list of cities; so, we are including this article, on CMS Buffet, SEO Company, web site.
As part of our effort to continuously improve our products, a system update will take place in February 2011 that will improve the overall quality of location targeting in AdWords. While this change will help make location targeting more accurate, certain location targets could experience a drop in impressions. The potential drop is due to improvements to our data which make targeting more precise.
What can I do if I'm seeing a reduction in ad impressions?
If you'd like to ensure your campaign continues to receive adequate ad impressions, you may wish to make an adjustment to your settings by following the instructions below:
Sign in to your AdWords account at https://adwords.google.com new window.
On the All Online Campaigns page, click the name of the campaign you wish to edit.
Click the Settings tab.
Click Edit next to Locations.
Delete the affected location(s) and replace with another, comparable location using the Search or Browse tab. In some cases, you may wish to target a broader area, such as the metro (if available) or region. You can also select the Custom tab and target a radius around a Map point.
Click Save.
If you don't take any action, your campaigns targeting the affected locations will continue to run, but you might see a reduction in ad impressions. You can follow the steps outlined above at any time to help increase your campaign impressions. No other aspects of your account will be affected by this system update.
Originally published here.
Recently Launched Sites
Cam-Bag.Com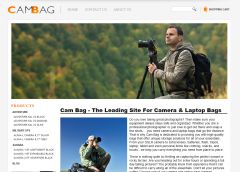 Do you love to take outdoor photographs? Be prepared with one of the Camera and Laptop Bags from Cam Bag. With storage solutions, organization, safety, and security, you will be ready for anything.
Contact Us:
Phone: 647-477-2992
Email: info @ CmsBuffet.Com
Helping You Achieve Web Visibility.