Google: Bing Is Cheating, Copying Google Search Results
Google has run a sting operation that it says proves Bing has been watching what people search for on Google, the sites they select from Google's results, then uses that information to improve Bing's own search listings. Bing doesn't deny this.
As a result of the apparent monitoring, Bing's relevancy is potentially improving (or getting worse) on the back of Google's own work. Google likens it to the digital equivalent of Bing leaning over during an exam and copying off of Google's test.
"I've spent my career in pursuit of a good search engine," says Amit Singhal, a Google Fellow who oversees the search engine's ranking algorithm. "I've got no problem with a competitor developing an innovative algorithm. But copying is not innovation, in my book.
Bing doesn't deny Google's claim. Indeed, the statement that Stefan Weitz, director of Microsoft's Bing search engine, emailed me yesterday as I worked on this article seems to confirm the allegation:
As you might imagine, we use multiple signals and approaches when we think about ranking, but like the rest of the players in this industry, we're not going to go deep and detailed in how we do it. Clearly, the overarching goal is to do a better job determining the intent of the search, so we can guess at the best and most relevant answer to a given query.
Opt-in programs like the [Bing] toolbar help us with clickstream data, one of many input signals we and other search engines use to help rank sites. This "Google experiment" seems like a hack to confuse and manipulate some of these signals.
Later today, I'll likely have a more detailed response from Bing. Microsoft wanted to talk further after a search event it is hosting today. More about that event, and how I came to be reporting on Google's findings just before it began, comes at the end of this story. But first, here's how Google's investigation unfolded.
Postscript: See Bing Admits Using Customer Search Data, Says Google Pulled 'Spy-Novelesque Stunt'
Hey, Does This Seem Odd To You?
Around late May of last year, Google told me it began noticing that Bing seemed to be doing exceptionally well at returning the same sites that Google would list, when someone would enter unusual misspellings.
For example, consider a search for torsoraphy, which causes Google to return this: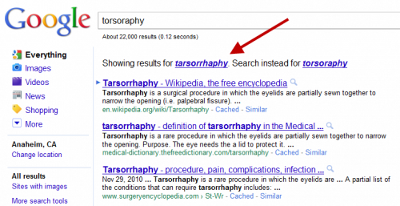 In the example above, Google's searched for the correct spelling - tarsorrhaphy - even though torsoraphy was entered. Notice the top listing for the corrected spelling is a page about the medical procedure at Wikipedia.
Over at Bing, the misspelling is NOT corrected - but somehow, Bing manages to list the same Wikipedia page at the top of its results as Google does for its corrected spelling results: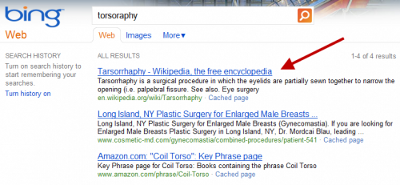 Got it? Despite the word being misspelled - and the misspelling not being corrected - Bing still manages to get the right page from Wikipedia at the top of its results, one of four total pages it finds from across the web. How did it do that?
It's a point of pride to Google that it believes it has the best spelling correction system of any search engine. Google even claims that it can even correct misspellings that have never been searched on before. Engineers on the spelling correction team closely watch to see if they're besting competitors on unusual terms.
So when misspellings on Bing for unusual words - such as above - started generating the same results as with Google, red flags went up among the engineers.
Google: Is Bing Copying Us?
More red flags went up in October 2010, when Google told me it noticed a marked rise in two key competitive metrics. Across a wide range of searches, Bing was showing a much greater overlap with Google's top 10 results than in preceding months. In addition, there was an increase in the percentage of times both Google and Bing listed exactly the same page in the number one spot.
By no means did Bing have exactly the same search results as Google. There were plenty of queries where the listings had major differences. However, the increases were indicative that Bing had made some change to its search algorithm which was causing its results to be more Google-like.
Now Google began to strongly suspect that Bing might be somehow copying its results, in particular by watching what people were searching for at Google. There didn't seem to be any other way it could be coming up with such similar matches to Google, especially in cases where spelling corrections were happening.
Google thought Microsoft's Internet Explorer browser was part of the equation. Somehow, IE users might have been sending back data of what they were doing on Google to Bing. In particular, Google told me it suspected either the Suggested Sites feature in IE or the Bing toolbar might be doing this.
To Sting A Bing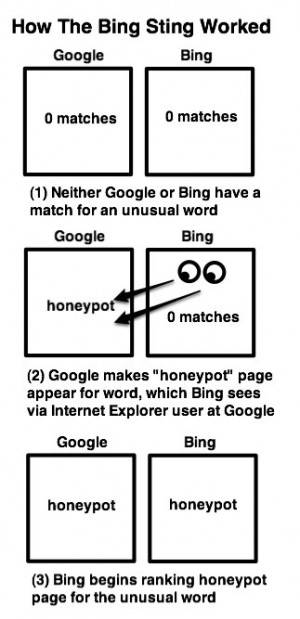 To verify its suspicions, Google set up a sting operation. For the first time in its history, Google crafted one-time code that would allow it to manually rank a page for a certain term (code that will soon be removed, as described further below). It then created about 100 of what it calls "synthetic" searches, queries that few people, if anyone, would ever enter into Google.
These searches returned no matches on Google or Bing - or a tiny number of poor quality matches, in a few cases - before the experiment went live. With the code enabled, Google placed a honeypot page to show up at the top of each synthetic search.
The only reason these pages appeared on Google was because Google forced them to be there. There was nothing that made them naturally relevant for these searches. If they started to appeared at Bing after Google, that would mean that Bing took Google's bait and copied its results.
This all happened in December. When the experiment was ready, about 20 Google engineers were told to run the test queries from laptops at home, using Internet Explorer, with Suggested Sites and the Bing Toolbar both enabled. They were also told to click on the top results. They started on December 17. By December 31, some of the results started appearing on Bing.
To be clear, before the test began, these queries found either nothing or a few poor quality results on Google or Bing. Then Google made a manual change, so that a specific page would appear at the top of these searches, even though the site had nothing to do with the search. Two weeks after that, some of these pages began to appear on Bing for these searches.
It strongly suggests that Bing was copying Google's results, by watching what some people do at Google via Internet Explorer.
The Google Ranking Signal
Only a small number of the test searches produced this result, about 7 to 9 (depending on when exactly Google checked) out of the 100. Google says it doesn't know why they didn't all work, but even having a few appear was enough to convince the company that Bing was copying its results.
As I wrote earlier, Bing is far from identical to Google for many queries. This suggests that even if Bing is using search activity at Google to improve its results, that's only one of many signals being considered.
Search engines all have ranking algorithms that use various signals to determine which pages should come first. What words are used on the page? How many links point at that page? How important are those links estimated to be? What words appear in the links pointing at the page? How important is the web site estimated to be? These are just some of the signals that both Bing and Google use.
Google's test suggests that when Bing has many of the traditional signals, as is likely for popular search topics, it relies mostly on those. But in cases where Bing has fewer trustworthy signals, such as "long tail" searches that bring up fewer matches, then Bing might lean more on how Google ranks pages for those searches.
In cases where there are no signals other than how Google ranks things, such as with the synthetic queries that Google tested, then the Google "signal" may come through much more.
Do Users Know (Or Care)?
Do Internet Explorer users know that they might be helping Bing in the way Google alleges? Technically, yes - as best I can tell. Explicitly, absolutely not.
Internet Explorer makes clear (to those who bother to read its privacy policy) that by default, it's going to capture some of your browsing data, unless you switch certain features off. It may also gather more data if you enable some features.
Is It Illegal?
Suffice to say, Google's pretty unhappy with the whole situation, which does raise a number of issues. For one, is what Bing seems to be doing illegal? Singhal was "hesitant" to say that since Google technically hasn't lost anything. It still has its own results, even if it feels Bing is mimicking them.
Is it Cheating?
If it's not illegal, is what Bing may be doing unfair, somehow cheating at the search game?
On the one hand, you could say it's incredibly clever. Why not mine what people are selecting as the top results on Google as a signal? It's kind of smart. Indeed, I'm pretty sure we've had various small services in the past that have offered for people to bookmark their top choices from various search engines.
"It's cheating to me because we work incredibly hard and have done so for years but they just get there based on our hard work," said Singhal. "I don't know how else to call it but plain and simple cheating. Another analogy is that it's like running a marathon and carrying someone else on your back, who jumps off just before the finish line."
In particular, Google seems most concerned that the impact of mining user data on its site potentially pays off the most for Bing on long-tail searches, unique searches where Google feels it works especially hard to distinguish itself.
Ending The Experiment
Now that Google's test is done, it will be removing the one-time code it added to allow for the honeypot pages to be planted. Google has proudly claimed over the years that it had no such ability, as proof of letting its ranking algorithm make decisions. It has no plans to keep this new ability and wants to kill it, so things are back to "normal."
Google also stressed to me that the code only worked for this limited set of synthetic queries - and that it had an additional failsafe. Should any of the test queries suddenly become even mildly popular for some reason, the honeypot page for that query would no longer show.
This means if you test the queries above, you may no longer see the same results at Google. However, I did see all these results myself before writing this, along with some additional ones that I've not done screenshots for. So did several of my other editors yesterday.
Why Open Up Now?
What prompted Google to step forward now and talk with me about its experiment? A grand plan to spoil Bing's big search event today? A clever way to distract from current discussions about its search quality? Just a coincidence of timing? In the end, whatever you believe about why Google is talking now doesn't really matter. The bigger issue is whether you believe what Bing is doing is fair play or not. But here's the strange backstory.
Recall that Google got its experiment confirmed on December 31. The next day - New Year's Day - TechCrunch ran an article called Why We Desperately Need a New (and Better) Google from guest author Vivek Wadhwa, praising Blekko for having better date search than Google and painting a generally dismal picture of Google's relevancy overall.
I doubt Google had any idea that Wadhwa's article was coming, and I'm virtually certain Wadhwa had no idea about Google's testing of Bing. But his article kicked off a wave of "Google's results suck" posts.
Trouble In the House of Google from Jeff Atwood of Coding Horror appeared on January 3; Google's decreasingly useful, spam-filled web search from Marco Arment of Instapaper came out on January 5. Multiple people mistakenly reported Paul Kedrosky's December 2009 article about struggling to research a dishwasher as also being part of the current wave. It wasn't, but on January 11, Kedrosky weighed in with fresh thoughts in Curation is the New Search is the New Curation.
Originally published here
Recently Launched Sites
Cam-Bag.Com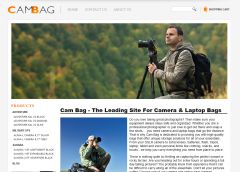 Do you love to take outdoor photographs? Be prepared with one of the Camera and Laptop Bags from Cam Bag. With storage solutions, organization, safety, and security, you will be ready for anything.
Contact Us:
Phone: 647-477-2992
Email: info @ CmsBuffet.Com
Helping You Achieve Web Visibility.