Google's SEO Report Card March 2010
How many of Google's web pages use a descriptive title tag? Do we use description meta tags? Heading tags? While we always try to focus on the user, could our products use an SEO tune up? These are just some of the questions we set out to answer with Google's SEO Report Card.
To read the whole article click here.
Recently Launched Sites
FurnaceAirFilters.Ca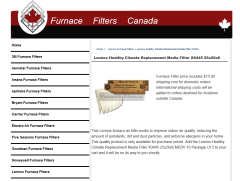 According to data gathered by Environment Canada, the air in your home can be up to five times more polluted than the air you breathe outdoors. Fortunately, there are easy ways for homeowners to improve the air they breathe inside their homes. Regular replacement of your Furnace Air Filter is one way...
Contact Us:
Phone: 647-477-2992
Email: info @ CmsBuffet.Com
Helping You Achieve Web Visibility.