More Links Are Malicious Than You Realize
It is not uncommon to find malicious links in 15% to 20% of the first 100 results returned by Google for any popular search term (according to Google trends). If Google doesn't take the Blackhat SEO problem more seriously, the total number of malicious links is bound to increase and this may already be happening.
The top search on April 2nd was "tri energy". I am not sure why it became so popular, but don't Google it: more than 90% of the first 100 links are malicious! Here is what I found for this search on April 4th:
To read the rest of the article click here.
Recently Launched Sites
NyGates.com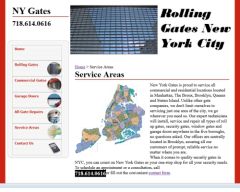 New York is the greatest city in the world, but we know all too well that you can never be too careful when it comes to security. Business owners throughout the New York City rely on Rolling Gates, Roll Up Gates and many different types of Security Gates to keep their businesses safe and protected 24/7.
Contact Us:
Phone: 647-477-2992
Email: info @ CmsBuffet.Com
Helping You Achieve Web Visibility.