Pubcon 2009 SEO Tips
Keywords:
Use Google Insights to make sure the keywords you are focusing on do not have declining interest.
Use Google Trends to check traffic trends in different markets. There may be emerging opportunities in other geographic areas.
How long will it take to get a keyword converting? Will it be worth it when it does?
Perform ongoing keyword research. The way people search changes.
On Site SEO:
"Glossary pages" are good for SEO
Use footer links sparingly and only link to your most important pages. Don't waste pagerank on content that is worthless. AKA SEO Silo
Landing pages: put the call to action above the scroller.
Landing pages: keep forms above the scroller and keep them short.
Launching a new product that doesn't exist in the market yet? Associate it with one that does to make people more comfortable with it.
Does your "Thank You" page cross sell or further engage? It should.
Your marketing purpose must be the #1 goal of your website.
If you use a map on your site embed a real map versus using an image.
No follow one link on a page and all become no follow.
The order of links in the code is more important than the order of links in the user experience.
The sequence of links on a page matters. Put the important ones on top.
Off Site SEO:
When building links make sure they have a random life
Text links in a page carry more weight than alt text
Even negative reviews help your rank. It's all about the numbers. Sad, but true!
Local Business SEO:
Just because you are closest doesn't mean you get the business. You need to build your brand too. Build trust.
Pull out your phone and do a search for your business.
Search your web site on your smart phone and make the required tweaks.
go to www.getlisted.org and follow the instructions
Add photos and video to your local search listing
Include city & state in the title tags
Local business's need local links
Neighborhoods matter. Are you optimizing for a "bad neighborhood"?
UI / Stickiness:
Screen size and resolution matters.
Offer an Incentive for reviews / feedback
Sign up to watch a video worked much better than sign up to download a white paper
80% of your visitors will fill out an "optional information" form after completing your call to action
Most visitors will not watch more than the 1st image of a rotating image.
Too manuy options = no choice.
Buttons should never say "Submit". Try "Download Now", "Start Free Trial", "Request More Information"
Link magnets are better than link begging
If you are going to do video write the script with keywords in mind
Forms: make sure there are no questions they can't answer or they will leave
Search Engines:
You need to get your site listed using text, images and video. A picture is worth 1000 words and people are clicking on it.
Search: 80% of queries are informational. Give them the information they want and then lead them where you want them
Google's technology is emerging to be able to read text in images.
Google's technology is also emerging to be able to understand words spoken in Video and index the transcripts.
Traffic analysis / Webtrends tools / Google Analytics:
Measure your brand traffic and keyword traffic separately. In Google analytics, you can change certain keywords to show as direct traffic
Are you ranking #1 (or trying to rank #1) for a keyword that will not provide any real benefit to your business?
Check your analytics for pages that are getting links and no traffic and redirect them.
Always be testing and measuring results. Before you change something get a benchmark.
SEO ROI:
Conversions: 3% to 5% is decent
Bounce rate: 30% is good, 50% is ok, 70% needs work
Surface conversations about your product, service or brand that are happening
Competitors:
Read competitors press releases. Are they using words that may change the way people search?
Recently Launched Sites
Cam-Bag.Com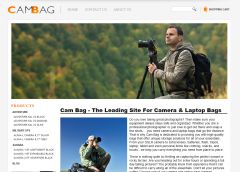 Do you love to take outdoor photographs? Be prepared with one of the Camera and Laptop Bags from Cam Bag. With storage solutions, organization, safety, and security, you will be ready for anything.
Contact Us:
Phone: 647-477-2992
Email: info @ CmsBuffet.Com
Helping You Achieve Web Visibility.