SEO and Video- The New Frontier
Online video has been explosive, with Youtube becoming the 2nd most searched site on the net.
Youtube can also help website owners drive traffic to their site as well.
Website owners can upload a video about their product or service with relevant keywords describing what they do and how. They can then distribute the video online on various video sites such as Youtube. By doing so, their site and pages will receive increased attention from major search engines which, in turn, should translate into better search engine ranking for their featured page.
On-page Video To Boost Your Web Traffic
As we all know that web pages compete over ranking on the major search engines (Google, Bing and Yahoo). Knowing this will also help you understand how a video that's embedded on your site's page will also increase search engine ranking.
Every time a visitor to your website watches a video that you uploaded to your site, search engines take notice. They notice that a video clip was played by a visitor to your site. In addition, search engines notice when visitors stay longer on your site. Since visitors spend more time watching video than reading text on pages, search engines will assign a rating to a page containing video. Therefore, video increases your "stickiness" aspect, boosting the overall interest and relevancy factor that search engines will assign to a web page. This has positive impact on a page's ranking position on the search engine results page.
From a search perspective, people can, and do, search for specific videos. Google has a function that allows the user to search for PDF files, images, videos and more. There is a higher chance that your page will attract more visitors if it contains an embedded video element, than if it doesn't.
The more video your website contains, the more visitor traffic you will likely receive, and those visitors will most likely view those clips. Search engines will take notice of the time spent on the site so the more captivating the video, the more attention it will get, and visitors will spend more time on your site. Not only will your site attract more visitors, but the number of returning visitors will also increase. Additionally, your search engine rankings will increase because of the relevancy and stickiness factors that the web-crawlers will give your page.
Reel SEO Interview About Youtube and Video Search
Below is an interesting video that explains the importance of Youtube and how it's connected to SEO and online presence and visibility.
The entire article and more info can be read by clicking here.
Recently Launched Sites
Cam-Bag.Com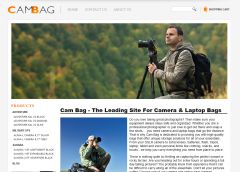 Do you love to take outdoor photographs? Be prepared with one of the Camera and Laptop Bags from Cam Bag. With storage solutions, organization, safety, and security, you will be ready for anything.
Contact Us:
Phone: 647-477-2992
Email: info @ CmsBuffet.Com
Helping You Achieve Web Visibility.