Google's Schmidt: 'Next Great Stage' Of Search
Speaking at the IFA consumer electronics event in Berlin, Google CEO Eric Schmidt painted a vision of the future in which search is fast, personal, and all-knowing - even to the degree of providing search results when searches haven't been conducted.
The mobile web is growing 8x faster than the equivalent desktop web from 10 years ago.
One in three queries from smartphones is now about where I am, something around me.
Google's mobile search traffic grew 50% in the first half of 2010. "It's growing much quicker than everything else."
Android is shipping about 200,000 activations per day now.
Search traffic from Android phones tripled in the first half of 2010.
Google Chrome now has 70 million users. The latest release is 4x faster than two years ago.
YouTube has more than two billion views per day, 160 million mobile views per day, 24 hours of video is uploaded every minute, and more than two billion monetized views per week (that's up 50% in the last year).
Google's DoubleClick platform serves over 45 billion ads per day.
94 of the Top 100 AdAge advertisers use the Google Display Network.
To watch the complete video click here
Originally published here
Recently Launched Sites
Cam-Bag.Com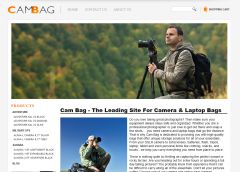 Do you love to take outdoor photographs? Be prepared with one of the Camera and Laptop Bags from Cam Bag. With storage solutions, organization, safety, and security, you will be ready for anything.
Contact Us:
Phone: 647-477-2992
Email: info @ CmsBuffet.Com
Helping You Achieve Web Visibility.