Testimonials
After working with a number of software development companies who were unable to meet our needs we finally found Dvir with CMS Buffet. Dvir created a software system for us that surpasses our expectations and we continue to depend on him for all our system needs. His customer service is exceptional and his commitment to our success as a business a refreshing bonus. We highly recommend CMS Buffet and would be pleased to provide a personal reference at any time.
Dr. Stephanie Bot & Donna Marshall, Bizassessments
Bizassessments - INVESTING IN PEOPLE WISELY
CMS buffet has been very helpful in building my clinic. Internet presence is critically important. Increasingly, new clients have found our clinic through the web. CMS buffet has been key in increasing our visibility on the web and revamping our entire website.
Their timely responses to my email inquiries and support to my own staff are excellent. I recommend CMS buffet to anyone who wishes to enhance their internet visibility and generate business.
David Tal, M.D. FRCPC, Director, A.G.E. Matters clinic
Adult and Geriatric Evaluation clinic
In this highly paced business and world Diver's dedication and availability is crucial for my business
CMS buffet is available almost 24 hours a day and is managing last minute request on a timely manner
Dvir understands our needs of the business and is able to come with new technological solution and innovative approach of improving our results while using his experience with technology
Meir Gluzberg, B.A.S, M.A, Sales Representative, Luxury Urban Living
First version of the site was not SEO friendly. CMS Buffet helped to us redesign BISolutions.us web site with minimum efforts, to optimize its "Googleability".
CMS Buffet was very passionate and helpful about the right marketing message and publishing of the right content.
SEO optimization performed by CMS Buffet resulted in the steadily increasing high quality traffic
CMS Buffet kept our high ranking for the all the important key words.
Dmitry Brusilovsky, President, Canada, Business Intelligence Solutions.
Business Intelligence Solutions
Since working with CMS Buffet our business has flourished and it took us to a different level.
We have a very prompt and friendly customer service.
Response times are immediate and professional.
They always have new ideas how to improve our business.
We wish that every vendor we work with would be as courteous and prompt as CMS Buffet.
Garry Zonis - President, Uniworld Logistics Inc.
Thank you for wonderful service and we look forward to continue working with you...
Maya and the CICC
Recently Launched Sites
Cam-Bag.Com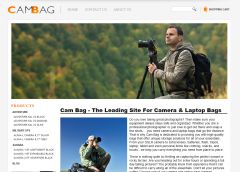 Do you love to take outdoor photographs? Be prepared with one of the Camera and Laptop Bags from Cam Bag. With storage solutions, organization, safety, and security, you will be ready for anything.
Contact Us:
Phone: 647-477-2992
Email: info @ CmsBuffet.Com
Helping You Achieve Web Visibility.