When Browsers Work Against You: PPC Issues Using Bing on Safari
Sometimes, the truth hurts; browsers and search engines don't always get along when they're playing together in the sandbox.
The Search Engine Marketing team at CMS Buffet made a bit of a disturbing discovery on behalf of one of our clients. The owners of K9 Toronto asked us to launch a Pay-Per-Click (PPC) campaign to promote their Mobile Dog Grooming services. When we tested the campaign, we found some disturbing images when we used Bing on Apple's Safari browser.
As you can see, the PPC ads that appeared on the Bing search conducted on Safari are not geographically specific to Toronto. They are ads for generic sites such as BizRate, Just Answer, Shopzilla and Low Price Shopper. When you run a PPC ad, ads for the same type of business should appear along with yours, not ads from comparison shopping or "answer" sites. This means there is something wonky going on when you use Bing as a search engine on Safari. The bottom line is, Bing and Safari are not a good fit when it comes to running PPC campaigns, so you will not see accurate results when you use the two together.
In our esteemed professional opinion, the best browsers to use for accurate PPC results are Internet Explorer, Mozilla FireFox and Google Chrome. Yes, we are surprised that Safari is bringing up the rear in this scenario and we've advised all our clients not to view their Bing PPC campaigns using Safari as their browser. We understand that every search engine is going to run a slightly different algorithm, but we never expected to see such results on Safari.
Even though we've only noticed this with Bing and Safari, we're also advising all our customers to play it safe, no matter which search engine they decide to use for their PPC campaigns. Test multiple search engines and multiple Internet Browsers.
If you have any questions about PPC and why this is important, our Toronto search engine marketing consultants stand ready to help you with all your SEO and SEM needs.
Recently Launched Sites
Cam-Bag.Com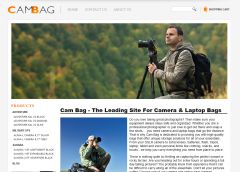 Do you love to take outdoor photographs? Be prepared with one of the Camera and Laptop Bags from Cam Bag. With storage solutions, organization, safety, and security, you will be ready for anything.
Contact Us:
Phone: 647-477-2992
Email: info @ CmsBuffet.Com
Helping You Achieve Web Visibility.