Reciprocal Link
A reciprocal link is a mutual link between two websites in order to ensure mutual traffic.
For example:
Driving Schools Directory
Toronto Limousine
This article discusses the effectiveness of reciprocal linking.
More information on reciprocal links can be read here.

Link Building Strategies and Opportunities
It's no longer easy to build links to your site, as the search engines are not particularly fond of link exchanges.
This
article discusses how you can find new ways to receive inbound-links to your site.
The Importance of Link Building
This
article discusses what type of links effect your page's ranking on Search engines.
Recently Launched Sites
NyGates.com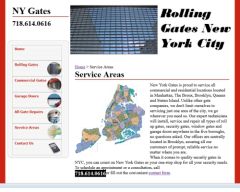 New York is the greatest city in the world, but we know all too well that you can never be too careful when it comes to security. Business owners throughout the New York City rely on Rolling Gates, Roll Up Gates and many different types of Security Gates to keep their businesses safe and protected 24/7.
Contact Us:
Phone: 647-477-2992
Email: info @ CmsBuffet.Com
Helping You Achieve Web Visibility.