Sub Domain SEO
SEO (Search engine optimization) of a sub-domain is like promoting a completely new web site.
The sub-domain stands by itself and needs its own SEO plan. The sub-domain can be for another language: for example www.berkeley.edu and french.berkeley.edu
The sub-domain can be for another province / state: for example California traffic school and New York traffic school.
Each sub-domain is a world of it-self.
Make sure the UI (user interface) of the domain and subdomain are accessible and easy to navigate.
Looking for a deeper analysis of your web site? the Diagnostic Program can help you.
Recently Launched Sites
FurnaceAirFilters.Ca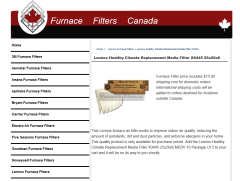 According to data gathered by Environment Canada, the air in your home can be up to five times more polluted than the air you breathe outdoors. Fortunately, there are easy ways for homeowners to improve the air they breathe inside their homes. Regular replacement of your Furnace Air Filter is one way...
Contact Us:
Phone: 647-477-2992
Email: info @ CmsBuffet.Com
Helping You Achieve Web Visibility.