Black Friday and Social Media
A new twist on Black Friday this year is using social media to promote businesses' goods/services. Twitter and Facebook are being used as serious vehicles to reach consumers in a giant way to advertise great deals.
As we speak, hundreds of deals are being advertised online and many Black Friday advertisements have been leaked to the public, Black Friday bargains are being offered from many retailers, even though the big sales blitz is still a few days away.
Using social networking sites makes sense for businesses not only because they can reach large numbers of consumers who have decided to follow them but the businesses can also reach the consumers basically for no cost.
Staples is using a different type of advertising this year than they have in the past. They are using social media. This is a brilliant strategy because it will reach a much wider audience, an audience that will now be able to see the tremendous savings (almost 50% in some cases) that are being obtained on laptops, TVs, cameras, computers, GPS devices, and much more. Other retailers are expected to do the same.
Twitter and Facebook are now considered major vehicles to disseminate information. Research has shown that numerous shoppers will be looking on Facebook and Twitter this Black Friday, so it was definitely a good decision to make the deals available to users. Research also shows that one in five shoppers intends to use the social media sites to do their holiday shopping.
Not only will the stores be showing their deals on the social media sites but they will be advertising them with Email campaigns as well. After Black Friday is over, the shopping will continue on Saturday, which will make way for big online sales on Cyber Monday.
And the fun won't end on November 27, traditionally seen as the day that the holiday shopping season launches. For example, after November 27, an iPhone application from dealnews.com, which now tracks Black Friday deals, will show sales for Cyber Monday because it is the first weekday after the Thanksgiving weekend and many consumers shop online on that day.
Other companies also are launching new Black Friday technology, including BlackFriday.info. The website, which posts retailers' Black Friday specials, has teamed up with AOL to launch a Black Friday toolbar to give web users one-click access to its updates.
Toys "R" Us launched mobile shopping this weekend, which allows customers to shop its online inventory using their mobile phones. Customers can use the new mobile-enabled Toysrus.com or BlackBerry and iPhone applications to research products, get shopping help, and make purchases during in-store shopping trips and to check the availability of items that are out of stock in the stores.
Every message posted on the company's Facebook page, which has more than 194,000 fans, also is condensed into a 140-character Tweet and distributed via Twitter.
Dealnews.com has also rolled out a free Black Friday iPhone application, which will display rumored and verified ads on users' iPhones. Consumers can either save them to a shopping list or connect directly with a retailer's Website to make purchases.
The application will switch over to Cyber Monday specials after Black Friday is over.
Yahoo! Shopping has launched a new iPhone app as well that allows consumers to search UPC codes while shopping to compare store prices against online prices.
Just a few years ago, if you wanted to find the best deals, you were forced to wait for the sales flyers to show up in your newspaper or mailbox. You would make a list of what you wanted and formulate your game plan.
That has all changed now because of social media. Tools like iPhone apps, blogs, Twitter, and Facebook will be critical in helping competitive shoppers to have an edge against the thousands of shoppers going for the deals of the century this season.
In today's economy, businesses are doing whatever they can to make it easier for shoppers to spend their money with them.
Originally published here.
Recently Launched Sites
Cam-Bag.Com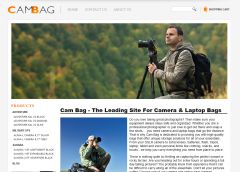 Do you love to take outdoor photographs? Be prepared with one of the Camera and Laptop Bags from Cam Bag. With storage solutions, organization, safety, and security, you will be ready for anything.
Contact Us:
Phone: 647-477-2992
Email: info @ CmsBuffet.Com
Helping You Achieve Web Visibility.