Google Puts the Emphasis on Location in Search
With a few tweaks and an interface change, Google has placed location and location-based search front-and-center in its search engine.
The big change, announced earlier today on Google Blog's, is that Google() has moved the user location setting to the left-hand panel of the search engine results page. This feature automatically detects your current location and tailors search results based on that. For example, searches for "pizza" or "gyms" will provide local business results near your location, which tend to be a lot more relevant than a Wikipedia() article on everybody's favorite cheesy snack.
The change rolls out starting today and will be available to users in 40 languages sometime soon.
Now that the location setting will be on the right side of the search engine results page, users can easily change it if Google gets it wrong or if a user wants to find restaurants near a different location. Say you're about to travel to New Orleans and you want to find the best gumbo near your hotel; all you have to do is type in the new city or zip code and Google will adjust search results based on that location.

While nothing has changed in the back-end of location-based search, the simple fact that Google has prominently placed it on the left-hand side, where millions of eyeballs will catch it, is not a small change. Google clearly understands that location plays a vital role in search, and with the rise of mobile and GPS, Google has been adding more and more location-based search features.
Today's changes are just as much about promoting location in search as it is about giving users more control over their privacy. Do you think today's change will get more users to utilize location in their searches? Let us know in the comments.
Originally published Here
Recently Launched Sites
FurnaceAirFilters.Ca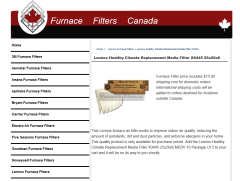 According to data gathered by Environment Canada, the air in your home can be up to five times more polluted than the air you breathe outdoors. Fortunately, there are easy ways for homeowners to improve the air they breathe inside their homes. Regular replacement of your Furnace Air Filter is one way...
Contact Us:
Phone: 647-477-2992
Email: info @ CmsBuffet.Com
Helping You Achieve Web Visibility.