Search Engines Like SEO
Matt Cutts is currently the head of Google's Webspam team.
It's a common mistake to think that search engines don't like SEO. The fact is that SEO within Google's quality guidelines is okay. That includes things like making sure that your site is crawlable, thinking of words that users would use when searching and including them naturally within the content of the site, and doing things like making sure that page titles and urls are descriptive.
Recently Launched Sites
Cam-Bag.Com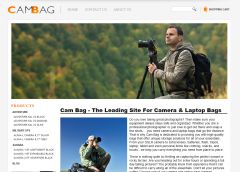 Do you love to take outdoor photographs? Be prepared with one of the Camera and Laptop Bags from Cam Bag. With storage solutions, organization, safety, and security, you will be ready for anything.
Contact Us:
Phone: 647-477-2992
Email: info @ CmsBuffet.Com
Helping You Achieve Web Visibility.