Understanding The Importance Of Negative PPC Keywords
Not all negatives are a bad thing. Just think about PPC keywords. Many companies and businesses use PPC (or pay-per-click) advertisements on popular search engines to draw traffic to their website. When the keywords used are too broad or don't accurately represent the company or brand, however, that can lead to pointless clicks...which can cost you money. That is where negative PPC keywords come into play. They are an essential part of good online business. So, it's time to understand what they are and why they are so important.
PPC is used by plenty of companies, both big and small. Pay per click can be an extremely effective way of gaining online visibility and attracting new visitors to your website. That can potentially lead to bigger sales and new clients. When you choose your keywords, though, it is important to be specific. A broader match can cause your ad to show up on a search engine for a query that doesn't quite fit what the searcher was looking for. If they end up clicking on your ad unnecessarily, you'll wind up paying for it. That is why having negative PPC keywords is such an important part of this online strategy.
By creating a list of negative PPC keywords, you can reduce the likelihood of your PPC ad showing up in broad or unmatched search. That means you won't end up paying as much for irrelevant clicks that lead to no sales. This should be done as you begin to plan out your PPC campaign. By creating a negative keyword list, you can start to focus your campaign more effectively. That means less money spent and more relevant clicks! Yes, sometimes you need to have a lot of negativity to see those positive results.
An example of some negative PPC keywords, are things like "free" or other overly broad terms. They simply won't get you the results you are after. In addition to the basics, there are negative PPC keywords you may want to add to your list because your website content doesn't currently have them. For instance, the term "cat grooming" is a targeted keyword for www.K9-Toronto.com as is "cat grooming prices." Since the website doesn't list the actual prices, however, this makes the latter a negative keyword. You don't want to bring visitors to the site looking for something you don't have.
In order to use PPC as effectively as possible, you need to add certain things to that negative list - even if they are popular search terms. There is no point bringing people to your website if you can't offer them what they want. Remember, you can always add the keyword back at a later time. Say, for instance, prices were added to the grooming website. Then, the term "cat grooming prices" would no longer be a negative PPC keyword. Making changes and updating your list as necessary is all a part of smart SEO and PPC strategies. By using negative PPC keywords, you are better able to highlight what you have, bring in a relevant audience, and avoid spending unnecessarily.
Are you ready to make the most of PPC? Then don't forget about those negative PPC keywords. By putting some thought into each and every keyword you use - or don't use - you can get the most out of every click.
If you are interested in finding out more about Negative PPC keywords or other PPC Management Services, feel free to contact us at: 647-477-2992. At CMS Buffet, we understand how to improve the visibility of your online business.
Recently Launched Sites
Cam-Bag.Com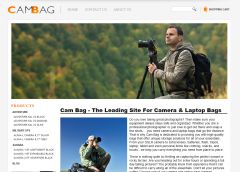 Do you love to take outdoor photographs? Be prepared with one of the Camera and Laptop Bags from Cam Bag. With storage solutions, organization, safety, and security, you will be ready for anything.
Contact Us:
Phone: 647-477-2992
Email: info @ CmsBuffet.Com
Helping You Achieve Web Visibility.