Google incorporating site speed in search rankings
Speeding up websites is important — not just to site owners, but to all Internet users. Faster sites create happy users and we've seen in our internal studies that when a site responds slowly, visitors spend less time there. But faster sites don't just improve user experience; recent data shows that improving site speed also reduces operating costs...
Recently Launched Sites
NyGates.com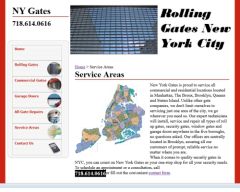 New York is the greatest city in the world, but we know all too well that you can never be too careful when it comes to security. Business owners throughout the New York City rely on Rolling Gates, Roll Up Gates and many different types of Security Gates to keep their businesses safe and protected 24/7.
Contact Us:
Phone: 647-477-2992
Email: info @ CmsBuffet.Com
Helping You Achieve Web Visibility.