Google May Close Operations in China
CNBC interview with David Drummond, chief legal officer at Google, who discusses the Internet giant's reaction to an assault by hackers who sought to penetrate the e-mail accounts of Chinese human rights activists.
To see the interview click here.
Recently Launched Sites
NyGates.com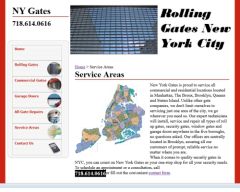 New York is the greatest city in the world, but we know all too well that you can never be too careful when it comes to security. Business owners throughout the New York City rely on Rolling Gates, Roll Up Gates and many different types of Security Gates to keep their businesses safe and protected 24/7.
Contact Us:
Phone: 647-477-2992
Email: info @ CmsBuffet.Com
Helping You Achieve Web Visibility.