Google Toolbar Tracks Browsing Even After Users Choose "Disable"
Run the Google Toolbar, and it's strikingly easy to activate "Enhanced Features" -- transmitting to Google the full URL of every page-view, including searches at competing search engines. Some critics find this a significant privacy intrusion (1, 2, 3). But in my testing, even Google's bundled toolbar installations provides some modicum of notice before installing. And users who want to disable such transmissions can always turn them off – or so I thought until I recently retested.
To read the whole article click here.
Recently Launched Sites
FurnaceAirFilters.Ca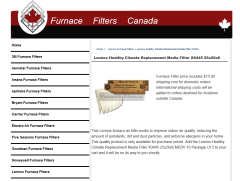 According to data gathered by Environment Canada, the air in your home can be up to five times more polluted than the air you breathe outdoors. Fortunately, there are easy ways for homeowners to improve the air they breathe inside their homes. Regular replacement of your Furnace Air Filter is one way...
Contact Us:
Phone: 647-477-2992
Email: info @ CmsBuffet.Com
Helping You Achieve Web Visibility.