Google Toolbar Tracks Browsing Even After Users Choose "Disable"
Run the Google Toolbar, and it's strikingly easy to activate "Enhanced Features" -- transmitting to Google the full URL of every page-view, including searches at competing search engines. Some critics find this a significant privacy intrusion (1, 2, 3). But in my testing, even Google's bundled toolbar installations provides some modicum of notice before installing. And users who want to disable such transmissions can always turn them off – or so I thought until I recently retested.
To read the whole article click here.
Recently Launched Sites
NyGates.com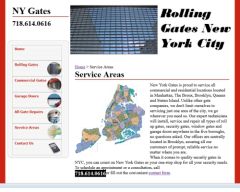 New York is the greatest city in the world, but we know all too well that you can never be too careful when it comes to security. Business owners throughout the New York City rely on Rolling Gates, Roll Up Gates and many different types of Security Gates to keep their businesses safe and protected 24/7.
Contact Us:
Phone: 647-477-2992
Email: info @ CmsBuffet.Com
Helping You Achieve Web Visibility.