Your Risk-Free Search Engine Optimization Offer*
CMS Buffet is the Search Engine Optimization Toronto company that knows there are 2 possible scenarios when performing a search on Google/Bing/Yahoo: Users find your web site, or they find your competitor's web site.
We know there is a third option for you to explore: Risk Free Search Engine Optimization
Now, CMS Buffet is proud to announce their new Risk-Free Search Engine Optimization Offer, available immediately to all new Search Engine Optimization clients.
Dvir Weininger, Search Engine Optimization Expert at CMS Buffet, knows Search Engine Optimization can be a bit difficult to grasp. "In order for us to show our new clients exactly how Search Engine Optimization can benefit them, we want to give them the 'private tour'; an exclusive, behind-the-scenes look at how Search Engine Optimization functions. That way, they get a better understanding of how we operate, without the usual amount of risk involved. We want our clients to know exactly what they are getting, so they'll realize the potential of Search Engine Optimization right away."
CMS Buffet is offering a 24-month Risk Free Package* that includes the following:
Purchase of Web Site Domain
Construction of Brand New Web Site
Complete Search Engine Optimization Services
Customized Content Writing Services
Once your new web site is designed, services are free until you record your first sale. After that, a typical 24-month payment schedule will go into effect. If at any time you are not happy with CMS Buffet's Search Engine Optimization services, you can cancel the contract; no obligation, no questions asked. If, before your first sale is made, you decide Search Engine Optimization is not for you, you can cancel your contract; no obligation whatsoever. The goal of our Risk Free offer is to give you the opportunity to understand and utilize the benefits of Search Engine Optimization with no risk involved to you, or your business.
After 24 months of enjoying the success Search Engine Optimization will bring to your web site, CMS Buffet will transfer ownership of your web site domain to you, upon fulfillment of payment per the contract terms.
"We believe this is an incredible offer that will benefit small business owners who are intimidated by Search Engine Optimization, or are skeptical about its efficacy," Weininger says. "This is the best way to see how well it will work for you. Never before has any Search Engine Optimization Toronto company made this offer, but we are so confident you will see how important Search Engine Optimization is, you'll wonder how you've been in business this long without it."
To put CMS Buffet's proven track record to work for your business, visit their web site at www.cmsbuffet.com to see examples of how Search Engine Optimization has worked for other online businesses. For more information, give Dvir Weininger a call at 647.477.2992.
*Terms and Conditions
CMS Buffet agrees to perform the tasks listed above with the intention of illustrating the effectiveness of Search Engine Optimization. Purchase of a web site domain name, construction of a new web site, Search Engine Optimization and content writing will be performed at no initial charge to the client. After the new site is published, and the client records their first sale via their optimized web site, CMS Buffet will begin to receive 24 monthly payments, as per the agreed upon contract and price. After fulfillment of the 24 month contract, ownership of the domain and the web site will transfer to the client. Further maintenance/modification packages are available upon expiry of the initial 24 month agreement.
Each Risk Free package is formulated specifically for each individual client's unique business needs. CMS Buffet will tailor their Search Engine Optimization services depending upon the type of business and the web goals each client would like to achieve. CMS Buffet reserves the right to refuse this offer to any potential client at their discretion.
Recently Launched Sites
Cam-Bag.Com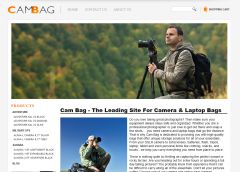 Do you love to take outdoor photographs? Be prepared with one of the Camera and Laptop Bags from Cam Bag. With storage solutions, organization, safety, and security, you will be ready for anything.
Contact Us:
Phone: 647-477-2992
Email: info @ CmsBuffet.Com
Helping You Achieve Web Visibility.