SEO Spans the Seasons - Even Though Your Business is Seasonal
Not every business operates year round. That's why it's important to stay fresh in your customers' minds even when you're not open for business. If you own a seasonal business and are neglecting your Web site when you're not open, that's a mistake that will cost you in search engine rankings. There's no off-season for Google; nor should there be one for your SEO, SEM and PPC campaigns.
Statistics have shown that seasonal searches will spike anywhere from 60 to 450 percent depending on the product, service and the time of year. For example, if you own a bed and breakfast location that operates only in the summertime, you want to keep your Web site active and engaging during the winter off-season, to keep potential guests apprised of any changes for the coming year. Maybe you're redecorating, or offering new services or extended stay packages. If there are any significant events that will be happening during peak season, make sure they're posted on your site to give potential customers something to look forward to. Blog a few times to keep rankings consistent, and to let users know when you'll be re-opening for business.
Certain products have very specific seasonal appeal, such as flowers for Valentines Day and Mother's Day. The same holds true for sports equipment and clothing. You want to pinpoint the exact time when your customers will start thinking about getting mom that bouquet for Mother's Day, and when customers will be shopping for things like hiking gear and athletic uniforms. Provide previews of new merchandise you'll be carrying, with both graphics and copy, giving your customers all the information they need to plan for their purchases.
Knowing your customers is only half the battle; you need to keep track of your Insights on Google to keep your SEO rankings consistent. There shouldn't be any dramatic off-season drop-off in rankings. Yes, this requires some dedication, but the results will pay off in quality traffic, keeping you where you should be all year long. Smart business owners should be able to "sell ice to Eskimos", even when it's 40 below. If you have a surf shop or souvenir shop, you want to give tourists thinking about coming to your location something to look forward to when they get there.
Consider all your options when it comes to your PPC campaigns. Stick to your budget, but make sure you're getting plenty of exposure on Yahoo and Bing, as well as Google. Consider adding banners on industry related sites and forums, and on Yahoo Answers. If users is looking for T-shirt shops and golf courses in Myrtle Beach, you want your business to come up first on their searches.
Let your Toronto SEO consultant help you brainstorm some new ideas to help you have your most successful season ever, regardless of when it is.
Recently Launched Sites
Cam-Bag.Com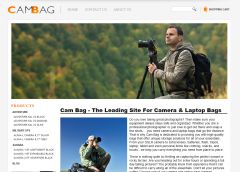 Do you love to take outdoor photographs? Be prepared with one of the Camera and Laptop Bags from Cam Bag. With storage solutions, organization, safety, and security, you will be ready for anything.
Contact Us:
Phone: 647-477-2992
Email: info @ CmsBuffet.Com
Helping You Achieve Web Visibility.