Facebook Follies
Facebook Follies is a one-hour documentary that takes a look at the unexpected consequences of people sharing their personal information on social media. Viewers meet people who lost their jobs, their marriages, their dignity, or who even ended up in jail - all because of their own or someone else's Facebook posting. To give a broader context to the events, these stories are intercut with reflections from experts in the areas of social change, internet security and contemporary media.
Recently Launched Sites
NyGates.com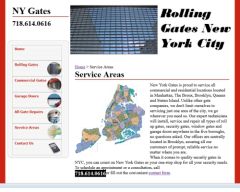 New York is the greatest city in the world, but we know all too well that you can never be too careful when it comes to security. Business owners throughout the New York City rely on Rolling Gates, Roll Up Gates and many different types of Security Gates to keep their businesses safe and protected 24/7.
Contact Us:
Phone: 647-477-2992
Email: info @ CmsBuffet.Com
Helping You Achieve Web Visibility.