Study: Ages of social network users
How old is the average Twitter or Facebook user? What about all the other social network sites, like MySpace, LinkedIn, and so on? How is age distributed across the millions and millions of social network users out there?
To read the complete asrticle click here.

Recently Launched Sites
Cam-Bag.Com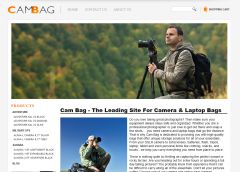 Do you love to take outdoor photographs? Be prepared with one of the Camera and Laptop Bags from Cam Bag. With storage solutions, organization, safety, and security, you will be ready for anything.
Contact Us:
Phone: 647-477-2992
Email: info @ CmsBuffet.Com
Helping You Achieve Web Visibility.