Web Design and Web Development
CMS Buffet is your one-stop full service source for Toronto web design. In addition to our renowned SEO and Content Management services, we are experts at web design and development. Even if you come to us with an idea scrawled on a piece of paper, we can turn your idea into an expertly designed web site that will give you the edge over your competitors. Our specialty is integrating all the services we offer into one hassle-free, easy to understand package.
When you start from scratch, it is important to understand every phase of the process from the ground up. Expert web design and development paves the way to success. From there, you can reap the benefits of all we have to offer, such as SEO web development, professional content writing and all the latest social media marketing strategies. You wouldn't move into a home that did not have a solid foundation, so why build a shoddy web site? You can count on the experts at CMS Buffet because in addition to our other services, we are a top Toronto web design firm. Other Toronto web design companies wonder how we do it, but we know it is our dedication and expertise that has earned us the reputation as one of the best in Toronto web design.
Our multi-faceted approach has benefited many small business in Toronto and the GTA. One look at some of our recently launched web sites will illustrate why CMS Buffet is the Toronto web design company of choice.
Recently Launched Sites
Cam-Bag.Com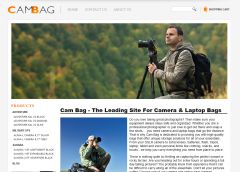 Do you love to take outdoor photographs? Be prepared with one of the Camera and Laptop Bags from Cam Bag. With storage solutions, organization, safety, and security, you will be ready for anything.
Contact Us:
Phone: 647-477-2992
Email: info @ CmsBuffet.Com
Helping You Achieve Web Visibility.