Google to make Gmail a little more social
Google is getting ready to add social-networking features into Gmail as it attempts to jump-start its social Web strategy.
Gmail users can already set their status within the service, but Google plans to expand that into a stream of status updates found in services like Facebook and Twitter, according to sources familiar with the company's plans. Users will also be able to share photos and videos through the service, which is expected to launch shortly.
To read the rest of the article click here.
Recently Launched Sites
FurnaceAirFilters.Ca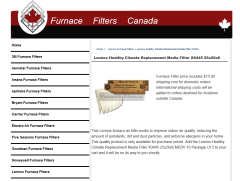 According to data gathered by Environment Canada, the air in your home can be up to five times more polluted than the air you breathe outdoors. Fortunately, there are easy ways for homeowners to improve the air they breathe inside their homes. Regular replacement of your Furnace Air Filter is one way...
Contact Us:
Phone: 647-477-2992
Email: info @ CmsBuffet.Com
Helping You Achieve Web Visibility.