How Users Read on the Web
They don't!
People rarely read Web pages word by word; instead, they scan the page, picking out individual words and sentences. In research on how people read websites we found that 79 percent of our test users always scanned any new page they came across; only 16 percent read word-by-word. (Update: a newer study found that users read email newsletters even more abruptly than they read websites.)
As a result, Web pages have to employ scannable text, using
Highlighted keywords (hypertext links serve as one form of highlighting; typeface variations and color are others)
Meaningful sub-headings (not "clever" ones)
Bulleted lists
One idea per paragraph (users will skip over any additional ideas if they are not caught by the first few words in the paragraph)
The inverted pyramid style, starting with the conclusion
Half the word count (or less) than conventional writing
To read the complete article click Here
Recently Launched Sites
FurnaceAirFilters.Ca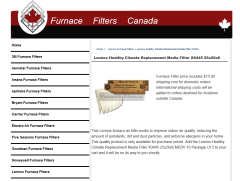 According to data gathered by Environment Canada, the air in your home can be up to five times more polluted than the air you breathe outdoors. Fortunately, there are easy ways for homeowners to improve the air they breathe inside their homes. Regular replacement of your Furnace Air Filter is one way...
Contact Us:
Phone: 647-477-2992
Email: info @ CmsBuffet.Com
Helping You Achieve Web Visibility.