How To Set Up Thunderbird Email
How to set up Thunderbird Mail?
Mail account setup:
Enter
Your name
Email address
Password
Mail account Setup:
Thunderbird will try to connect to the mail server and fail!
This is what you will see
Go to "Tools"
"Account Settings"
Pop 3 server is mail.cmsbuffet.com
User name, is what you got from the system administrator
Un-check "Use secure authentication"
Click "Outgoing Server (SMTP)"
Click "Edit"
Description "mail.cmsbuffet.com"
Server Name "mail.cmsbuffet.com"
Port 2525
Check "Use name and password"
User Name is the email address you got
Connection security "STARTTLS"
Click "OK"
Click "OK"
Click "Confirm Security Exception"
The first time you send / receive an email
The password prompt would "Pop"
Enter your password
Click "OK"
Recently Launched Sites
Cam-Bag.Com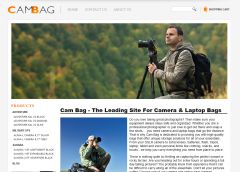 Do you love to take outdoor photographs? Be prepared with one of the Camera and Laptop Bags from Cam Bag. With storage solutions, organization, safety, and security, you will be ready for anything.
Contact Us:
Phone: 647-477-2992
Email: info @ CmsBuffet.Com
Helping You Achieve Web Visibility.