Building Traction with Search and Social Media Visibility
Ah, Social Media, the buzzword amongst all buzzwords across the web now at days, it's amazing how much it is talked about. Amazingly enough, Social Media has become a part of the general web presence and we are moving away from it being a piece of the business, so to speak, but rather, the a fully conversational and connected Social Web...
To read the rest of the article click here
Recently Launched Sites
Cam-Bag.Com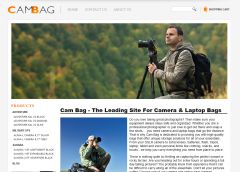 Do you love to take outdoor photographs? Be prepared with one of the Camera and Laptop Bags from Cam Bag. With storage solutions, organization, safety, and security, you will be ready for anything.
Contact Us:
Phone: 647-477-2992
Email: info @ CmsBuffet.Com
Helping You Achieve Web Visibility.